SUPERIOR FABRIC | AUSTRALIAN OWNED | CONSISTENT COLOURS | 100% CUSTOMISABLE
Wear Valour with confidence on the court fit perfectly as ONE TEAM.
In 2020, Liz Ellis' State of the Game Review highlighted how many young athletes have been deterred from competitive netball due to the regulated uniform. Valour together with Netball NSW want to turn this concept on its head. Offering participants, the opportunity to dress in a way that reflects their individual preferences or style while still coming together and matching as ONE TEAM.
The concept surrounds the idea of providing an inclusive range of garments that can be mixed and matched depending on the players individual preference. One team mate might prefer to wear a singlet and shorts, while another might feel more comfortable with long sleeves and full tights. Yet with Valour's unique designs the whole team still look seamless.
The apparel range includes a netball dress, female fit long sleeved tee and short sleeved tees; both female and unisex fit singlets and polos. The range is complemented with coordinating base colour varied length tights, shorts and hijabs, meaning all teammates wear a uniform that suits the others.
The range provides a number of seamless designs that carries the chosen pattern and colourway across each garment, allowing each member to match the rest of their team regardless of their clothing choice. It means players can focus on their game, comfortable and confident their uniform reflects them.
Going one step further One Team Design Room by Valour Sport makes customising your kit even easier and brings you to the creative table. With a range of designs to choose from and hundreds of colour combinations, you can now design your own kit.
Use your existing club colours or try something new. Add sponsor and club logos, players names and customised text to create unique teamwear to hit the courts. Design Room puts you in the creator's seat, with assistance from the Valour team, take your teamwear to the next level and have it delivered straight to your front door.
Kit the team, how they want to wear it.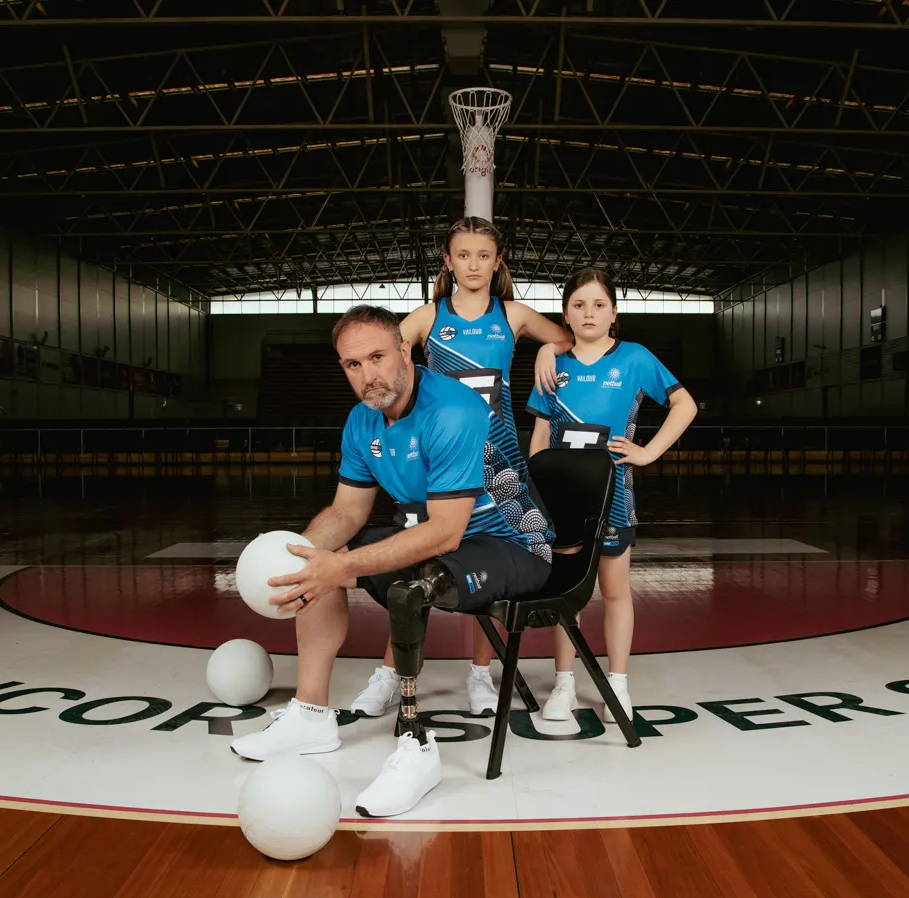 FULLY CUSTOMISED SPORTSWEAR IN THE FOLLOWING STEPS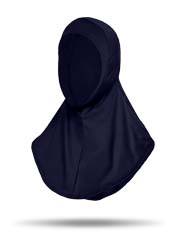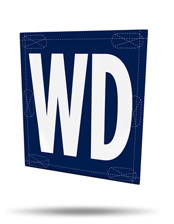 MIX & MATCH WITH
VALOUR COORDINATES
An inclusive range of designs which fit perfectly with one another so you can mix and match your apparel across each player but still look like ONE TEAM. Our range features tees and singlets but also long sleeved options, dresses, hijabs and different shapes so you can find your perfect fit.
We want you to feel comfortable in your uniform so you can focus on your performance.
Design Room by Valour Sport brings you to the creative table - welcome to the world of being your club or team's creative director. Design room offers a customisable solution for your team's sports uniform. Using Valour's online portal you can select a design, change the colours, add logos and sponsors and then send it to your teammates for review before finalising your order.
WOULD ONE TEAM SUIT MY TEAM?
ONE TEAM has been designed with the aim of accommodating every netball team's uniform needs - whether you are playing in mixed teams, have cultural or religious apparel requirements, are not comfortable in form fitting garments or looking for an alternative to a dress – you can now concentrate on your game rather than what you're wearing.
Focus on what really matters and do it in the comfortable, quality performance garments Valour is famous for.
DO YOU OFFER MIXED GENDER ITEMS?
Valour is all about inclusion in sport, that's why we offer a range of items and fits. Not only do we offer apparel for mixed genders we also offer the concept of ONE TEAM, where you and your teammates can find the perfect style and fit that suits you as an individual while still looking cohesive as ONE TEAM on court.
If there is an item you think would be a great addition to the ONE TEAM range, we would love to hear your feedback
CAN I USE MY OWN LOGOS & SPONSORS?
We encourage you to use your team logos and sponsor logos on your garments, you can simply upload them into the system on the logos tab, move them, resize them and place them exactly where you want. In Design Room, you can upload both Jpegs or PNG files, remove the backgrounds, and try different locations until you have found the perfect balance. Then the design comes to our team who will request a vector of your logo. This ensures the logo is sharp and the correct dimensions, keeping your sponsors happy and your design looking slick.
CAN I REMOVE THE BACKGROUND OF MY LOGO?
Our Design Room has a feature that can remove the background from your JPEG and PNG logo uploads. Simply select "REMOVE BACKGROUND" and the background will disappear. This is dependant on the image structure and will generally remove the colour used as the background.
I've never done this before: If you're new to the One Team Design Room experience you're in safe hands. We have made the process as easy as possible and the exciting news is you are now in the designers chair. You can pick from a range of designs and customise your colours to suit your current brand or try something completely new.
Decide which uniform item you'd like to start with and click on the garment above,
CAN I CHANGE OR CANCEL MY ITEMS AFTER FINALISING MY PURCHASE?
Once your order has been received, the process becomes automated, meaning unfortunately that we cannot make changes or cancel your items once they have reached this phase of the production process.
All your designs are kept in your log in, you can simply select your favourite design and re-enter your order requirements, including quantity, sizing before finalising.
WHAT IS THE TURNAROUND TIME FOR CUSTOM SPORTSWEAR?
When designing and ordering through Design Room you can expect up to 8 weeks for your sublimated garments
Ordering sublimated garments: Up to 8 weeks (14 days for design, 7 days for review, 2 weeks to make a pre-production sample, 4 weeks for manufacture and delivery)
HOW DO YOU DELIVER CUSTOM SPORTSWEAR?
From our company owned factory in China, your sportswear is sent by sea at no extra cost to you. Air freight reduces delivery time by two weeks, and we ask you cover the cost of this.
Once your stock arrives in our warehouse, we use a small group of trusted couriers. You don't pay any local delivery fees.
HOW MUCH DOES SHIPPING COST?
Australian Addresses:
We offer $10 flat rate shipping for orders under $150. Orders over $150 receive free shipping. *excluding online club orders
We will email you an order confirmation as soon as your order has been placed and payment has been approved. You will receive another email when your order is picked up by our couriers. If it has been more than 3 business days and you have not received tracking information, please contact our Customer Care Team on 1300 VALOUR or email online@valourpsort.com.au.
Due to the escalating COVID situation causing increases in freight volumes, all carriers are experiencing delays within their network.We will do our best to get our delivery out to you as soon as possible but please be mindful that we're expecting delays to increase in the coming weeks. 
WHAT IS THE MINIMUM ORDER?
25 pieces of the same garment.
Sublimation uses heat to fuse ink into the fabric. Bold colours, sharp lines and crisp prints are the result. Despite exposure to sunshine, body sweat and repeated washing, Valour's sublimated sportswear will remain vibrant. Valour has created thousands of pieces of sublimated sportswear for schools and sports clubs. Let your imagination run wild!
In order to sublimate your designs we use our trademarked Barricade and Barricade Lite fabrics. Barricade Lite is a lightweight sportswear fabric. It's Valour's sportswear fabric of choice for high intensity sports where athletes are constantly moving.
VS Barricade Lite is the best choice for sublimated sportswear. Soccer clubs, basketball teams, netball clubs and athletics groups love it.
100% Polyester
Colourfast
Entry level sportswear fabric
Fabric Content: 100% Polyester
VS Barricade is the toughest sportswear fabric on earth. It will endure endless hours of pulling, stretching and tackling. Engineered from 100% Polyester and knitted using a compact weave, VS Barricade is the perfect sportswear fabric for AFL Guernseys, rugby league jerseys, rugby jumpers and touch football kits.
100% Polyester
Superior stretch for high intensity sports
Fabric Content: 92% Polyester, 8% Spandex
HOW DO I CARE FOR MY GARMENT?
The best way to look after your sublimated apparel is a cold hand wash. You can also machine wash if you turn the fabric inside out. We suggest placing the item in a delicates washbag if you have one. Use cold or warm water for your wash cycle with a regular detergent. Hand inside out to air dry or put in a clothes dryer on low heat.
For stubborn or ground in stains, soak with pre-treat stain remover in cold water before washing. Do not rub the fabric as they may result in pilling.
Children's Size 4 to Adults 5XL.
WHAT MAKES VALOUR DIFFERENT FROM ANY OTHER CUSTOM SPORTSWEAR SUPPLIERS?
We're sportswear geeks. When our zipper supplier told us they could supply a matt finish waterproof double ended zipper in any colour we specify, we were like a child on Christmas morning.
Sportswear runs through our blood. Delivering excellence in everything that we do is not negotiable.
WHERE IS VALOUR SPORTSWEAR MADE?
In our purpose built, Australian Valour owned manufacturing plant, Talon Global in Zhong Shan, China. From our Dural Head Office we can see what is happening our manufacturing plant, 24/7. A close friend of Valour's founders manages the factory on their behalf.
Valour's cut and sew garments are made at Talon Global. Our sublimated sportswear is manufactured in a Chinese factory that has a long-standing commercial relationship with us.
I NEED SPORTSWEAR FOR SPECIAL NEEDS CHILDREN. CAN VALOUR HELP?
Yes.
Valour are proud partners of Special Olympics Australia, having supplied sportswear for the Trans-Tasman Games and World Winter Games. The range included track and field, swimwear, walk-out wear day wear, luggage and accessories and customised for each player.
WHAT ARE VALOUR'S PAYMENT TERMS?
We accept direct deposit, Visa and Mastercard. Fees apply for credit card payments.
One-off orders must be paid in full before we commence production.
For repeat orders, we ask clients to complete an account application form. Account customers are invoiced for their sportswear when the order leaves our Sydney warehouse. Payment terms are 30 days.
HOW DO I USE A PROMOTIONAL CODE?
The promotional code must be entered in the 'promotion code' box at the cart stage of your checkout. If the promotion code is valid then the discount will be visible in your updated cart total. Please note only one promotion can be entered per transaction. Please contact our Customer Care team on 1300 VALOUR if you have any issues on checkout. Once your payment has processed we cannot go back to assist you.
CAN I EXCHANGE A PRODUCT?
Got more questions? We've answered the most common questions on our FAQ page.
Need help? Tell us about your custom uniform needs and we'll get in touch with you promptly.